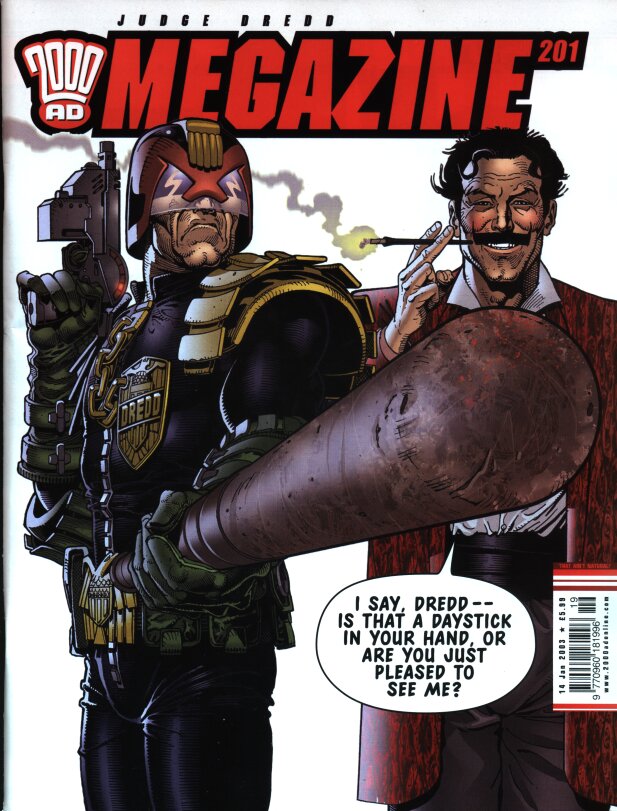 Back by popular demand the text entries and let us start with the completely new beginning of the megazine. A new renumbering, a new page size and a whole page size and that are just the beginning of the changes. The reprint has been branded together as 2000ad gold and through the coming months, we would get classics such as fiends of the eastern front, Harry 20 on the high rock and err slaine time killer…
What makes this period in the reprinting of strips more interesting is the reprinting of battle classics. Darkies Mob is reprinted and so is the classic Charlies war but more on those in a future entry.
As for the new strips inside this issue, we have two dredd stories. Phartz, which is one huge poot, joke gone horribly awry by John Wagner and Carlos Ezquerra. And an apocalypse war anniversary tale by Gordon Rennie, which ends up being better than the John Wagner strip…seriously.
There is Family a strip, which is written by the Nikolai Dante team. But more on that in a future entry and finally there is a one off story called the Kleggs which is a comedy strip featuring the alien race once hired by crazy judge cal during the day the law died storyline. It is….not my cup of synthe tea I am afraid. It is not a daily hate crime but I still am not a fan of it.
Devlin Waugh begins a new story with a text feature, which explains the long torturous life, the strip has had. More on this story in a future entry although I would be remiss not to mention that the supposedly reprint free 201 has an old Waugh text strip inside its pages…perhaps the no reprint rule didn't count for text stories? Moreover, speaking of text we get a double shot of thrill power overload this time round including a special episode, which never became part of the eventual book. It focuses on original IPC publisher John Sanders and is well worth a read.
Well that is the first written slog in a long time. Do not get used to the length they all won't be this long…see you next time as some alien bastards hit the big meg…